The Funniest Chatline TV Commercials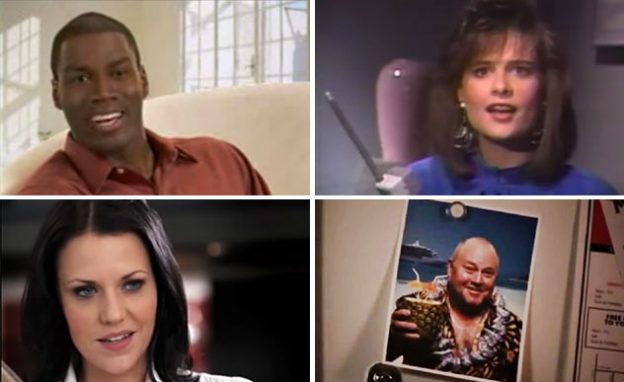 Chatline commercials are usually pretty sexy, but sometimes chatline companies put a little extra effort into making their commercials particularly hilarious. Check out these funny commercials for chatlines:
1. A Guy Who Listens
| by
LiveLinks
Two guys are at a restaurant when the waitress comes up. "So what can I get you guys today?". The guy on the left asks what the specials are again.
"Dude!" His friend says. "She's been over this already." He then rolls off the list of specials. The waitress looks at him attentively, impressed. "Wow, that's hot," she says. The guy smiles at her, while his friend asks her if the chili or the chicken is hot.
"There's nothing hotter than a guy who listens," the voice says at the end. She's not wrong!
2. A Woman's Three Numbers
|
Vibeline
"There are three numbers that can tell you a lot about a woman on VibeLine," The guys says. A photo of a woman appears with numbers attached to lines pointing to her body, presumably pointing out her bust, waist, and butt numbers, something totally shallow.
The guy continues to go on to say, "The amount of connections she has made, the number of messages she sends, and the number of messages she receives." VibeLine's numbers are more important than her figure, apparently, and this guy is really into the site!
3. The Love Line
| by The Love Line
This commercial is so dated that the style of the commercial itself is funny! A woman picks up a phone and opens her mouth, staring at it in amazement like it's revolutionizing her life. "The best place to meet new people," the voice says. The woman seems thrilled to chat with people on the phone.
Then the commercial cuts to a different woman eating Chinese Food totally alone in her kitchen, only missing a cat! Thankfully, the announcer tells her about LoveLine and saves her from a life of takeout for one.
4. The Comic
This commercial features an exuberant funny guy that may or may not be jacked up on speed or multiple espressos. He talks so quickly that just watching him is funny. "No one's going to reject you, no one's going to hang up on you! Rejection is the worst feeling in the world!"
With a black shirt and a mustard yellow jacket, it's hard to believe this guy has found success in love or dating. But there's about five women around him, so who knows? "You gotta go to the phone if you're still single now you're always going to be single!" He yells. The camera then shows multiple women you could meet on the line, all realistically dressed in bikinis inside a bar and smiling and dancing. The comic goes and dances with them. Then a bunch of singles introduce themselves and say what they're looking for. Check out his rant at 2:55 about women and shopping for shoes– hysterical.
5. Fantasies for Men (and Women)
| by
Nightline
A man and a woman are making out in a bathroom stall. They're both making amorous noises. Finally, she puts her heels on the ground, exiting the stall and leaves. "Fantasies for men," the voice says. The man turns around and kicks the seat down. "And women!".
This ad is hysterical, in part because it's true. Men fantasize about sex, and in this case, women still fantasize about a guy who puts the seat down."The Night Exchange," says the voice. "Real people, explicit chat." What she should say is "This is why people don't sit down on public toilet seats."
6. Uncle Bob
| by
QuestChat
Even though this commercial never did air on TV, the Uncle Bob commercial did go viral online. Check it out for yourself and and see why we think it is the funniest of the lot.
These are the funniest chatline commercials we could find. If you know of any other funny TV Ad for a chatline, comment below.
Attention! The comment section is moderated. For your protection, please refrain any personally identifiable information such as phone numbers and email addresses.
if (current_user_can('edit_post')):?>
endif ;?>