Nightline
Nightline is FMG's late night raunchy brand.
Nightline Packages
| Minutes | Price |
| --- | --- |
| 20 minutes | $9.99 |
| 160 minutes | $24.50 |
| 420 minutes | $49.50 |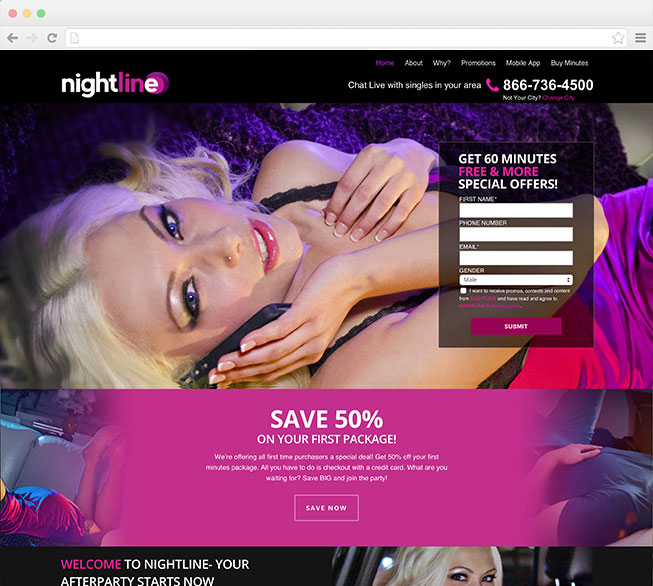 More Chatlines Like Nightline
Who Is It For:
Nightline is for everyone with 18 years above; and who wants to have fun through socializing and dating on the dating line. Singles are able to interact with individuals in their local city. They are able to find their perfect match for either a date, long and lasting relationships or for casual encounters. Individuals looking for love are able to have a complete control over their phone chat line; one is able to choose who to connect with from hundreds of hot and sexy singles availble, filtering he rest.
Features:
Hot Phone Chat: Nightline offers various categories of dirty chat. One can choose from, flirt chat, anonymous chat, or a single chat. This ensures that you only get what you're exactly looking for without wasting much time.
Local Chat: Nightline is one of the North America's busiest late night flight chat network. Local lines are available to singles across all the cities.
Record: When one is not around, he/she can record his/her sexy voice, greet everyone and let everyone know what you're up to. Upon coming back, you're guaranteed of getting singles who want to chat with you.
Messaging: One does not have to chat with everyone. Upon identifying someone that sounds good to you, you're able to send her erotic messages and be able to connect easily.
Android App: Nightline has an android application that you can easily install in your smart phone. You do not therefore have to be in front of your computer all night along. It pretty simple for one to converse in in a club or when partying.
Discreet and Safe: Nightline understands that one does not mean giving everything away, when looking for a hot phone chat. As a result, Nightline guarantees 100% privacy to the callers. This enables you to enjoy an anonymous chat and be able to focus on your conversation.
Top Cities: New York, Toronto, Los Angeles, Montreal, Chicago, Houston, Vancouver, Philadelphia, Phoenix, San Antonio, San Diego, Dallas, Calgary, San Jose, Edmonton, Ottawa, Austin, Jacksonville, Indianapolis, San Francisco, Columbus, Fort Worth, Charlotte, Detroit, Quebec City, El Paso, Winnipeg, Hamilton, Memphis, Boston, Seattle, Denver, Washington DC, Nashville-Davidson, Baltimore, Louisville-Jefferson County, Portland, Oklahoma City, Milwaukee, Kitchener.
Peak Hours: A lot of people are usually online during the night. Midnight hours are always the best.
Pricing / Packages:
Though Nightline does not offer unlimited calls, their airtime prices are relatively low. One does not have to spend a lot of bucks to make a connection.
Offers Free Trial: New guys are given 60 minutes free call. Ladies are able to chat for free all the time, interact and explore their fantasies at any time of the day.
Paid Membership Perks: Members who have subscribed receive private messages in their phones.
Score: Out of 5 stars, Nightline gets a score of 4.8 / 5.