La Roux's Music Video Makes Us Reminisce of Flashy Phone Sex Commercials of the 80's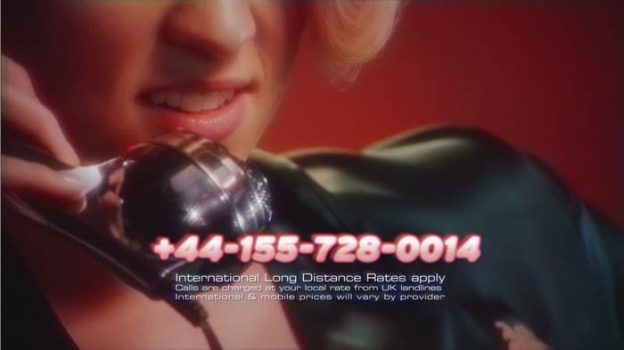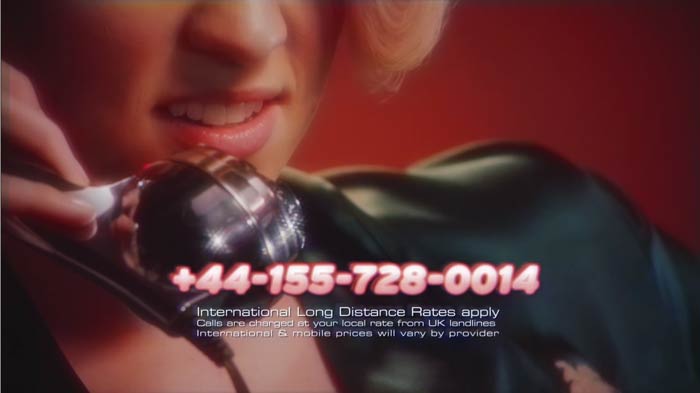 In the music video for her latest song "Kiss and not Tell", La Roux's reminds us of 1980's style late night sex chat lines commercials of the 1980's and 90's.
The video draws the viewer into what is about as close to a real sex chat line commercial as can be while the sex appeal of La Roux is equivalent to that of a sex chat line hostess which is backed up by a sexy little pop beat and lyrics expressive of a longing for love.
The singer/artist, hair done up in a wave covering half of her face and sporting a fresh makeover throughout the video is shown singing the song's lyrics in a spoof of phone sex chat line commercials while her words expresses her pent up feelings toward a potential lovers.
La Roux appears to be lip-synching to the lyrics (another trademark of the era) while in between vintage novelty phones are shown ringing.
In some scenes she is shown dancing and singing inside a retro TV set. Other scenes show her popping up from the bottom of the screen with a telephone in her hand — very much like a real phone sex commercials 30 years ago.
The singer sings her catchy song expressing emotions, or withheld emotions that make her want to "Kiss And Not Tell."
The lyrics are full of lines that are urging another to get on with a relationship in the manner of a secret chat line.
In the beginning of the song she sings
"Ten Thousand Stories Sent Two Lovers Disguise
You Have Seen The Future Now
A Love That Is Blind
Makes You Want To Kiss And Not Tell"
As she sings "You Have Dialed That Number Now So Where The Surprise Temptations Calling You A Secret Reply" the song lyrics quickly have matched to the video's sex chat scene and also the temptation to call again once you have called the chat number or the number of your lover for the very first time.
While the singer has suggested in and through her lyrics that her lover or another is backing off she expresses the similar feelings when she sings "all along I have had these feelings I can't help makes me want to kiss and not tell," her lover she tries to draw close while on her end she expresses that she has feelings and just wants to kiss and not tell.
The phone sex chat line theme of the video runs parallel as the song is expressing the upside of phone sex chat lines and the sex appeal of more private and intimate interaction between lovers, fulfilling the need and desire for love and compassion privately and perhaps in a way that does not jeopardize personal privacy.
As the song progresses La Roux sings:
All Along I've Had Feelings I Can't Help
Makes Me Want To Kiss And Not Tell
And All I Want is To Come Right Out of My Shell
which further suggests that she is reluctant as the other as she repeats the chorus of "makes me want to kiss and not tell."
The video for the song clearly expresses the desire for companionship without being too open and straightforward all the while having a love or relationship with someone that can be cherished privately.
The video perhaps shows why sex chat lines are not necessarily bad as some people are shy and less social than others when it comes to relationships.
Attention! The comment section is moderated. For your protection, please refrain any personally identifiable information such as phone numbers and email addresses.
if (current_user_can('edit_post')):?>
endif ;?>