Top 20 Songs Inspired by Phones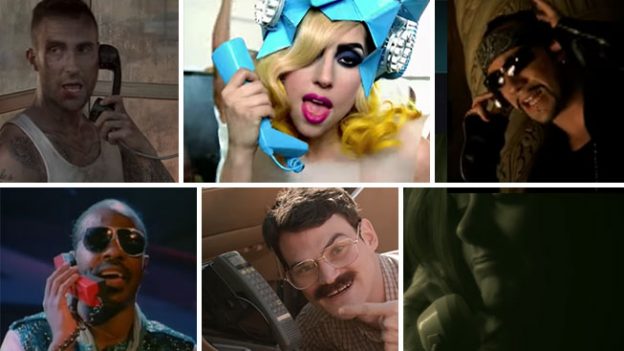 Kiss and Not Tell" by La Roux
2014
Reminding us, to an upbeat calypso rhythm, that discretion is the better part of valor, La Roux's Kiss and Not Tell recognizes that we will put up with a lot for love even when we know that the relationship's shelf life is destined to expire once the kissing ends and the hassles begin.
Hotline Bling by Drake
2015
Drake's 2015 Hotline Bling makes the point that if you move away, you can expect that those you leave behind are going to continue with their lives. In this five-minute long musical bitch fest, the singer complains that their former love interest never calls anymore on his cell phone while completely ignoring the role his leaving took on continued conversation.
Hello by Adele
2015
The opening of Adele's 2015 hit, Hello, is perhaps more evocative of the Verizon gut's "Can you here me know" survey as she battles to secure a valid connection with her ex in a world of crappy cell phone coverage. Her lyrical mea culpa attempts to explain why she devastated an ex-boyfriend's heart.
Payphone by Maroon 5 feat. Wiz Khalifa
2012
Nothing says love like braving an armed robbery, grand theft auto, and eluding a police chase for the chance to reconnect for the briefest of moment with the one you love via a payphone in the middle of nowhere. Maroon 5 feat Wiz Khalifa brings it all together in the 2012 hit Payphone.
Telephone by Lady Gaga feat. Beyoncé
2012
Thelma and Louise have nothing on these two ladies, Lady Gaga and Beyonce, who tear up the telephone wires as they berate the pathetic attempts of life's wall flowers who begin blowing up the phone right when the ladies begin to burn down the house in 2012s smash hit, Telephone.
Car Phone by Julian Smith
2014
Julian Smith's 2014 Car Phone celebrates the affluence afforded by driving around with a car phone the size of small compact car. With calls costing $2 a minute, the pride is evident as the video's protagonist makes plans with similarly outfitted friends to meet up for doughnuts and coffee.
Video Phone by Beyoncé feat. Lady Gaga
2009
Voyeurism is on full display as Bey encourages her bae to use his phone's video function to enjoy her sexy provocative clips, which demonstrate the true value of affordable bandwidth. Unafraid and unbowed by the potential embarrassment if the clips go public, Beyonce's ultimate self-confidence is on display regardless of who might catch a glimpse of her cavorting on his Video Phone.
Hung Up by Madonna
2005
The 1980s Material Girl is still burning up the song charts and the telephone lines in her 2005 smash hit, Hung Up. Through the first half of the video, the Queen of Pop laments her inability to make a connection that has her fumbling about Like a Virgin before she remembers the essential power she holds in this particular relationship.
The Call by Backstreet Boys
2001
Like accidentally sending dirty, adult-like pictures to your entire call list, in The Call, the gentlemen from the Backstreet Boys reveal their cheating hand in a video that illustrates the perils of bad cell connections and drained batteries. When later in the video it is revealed that the caller is a cheating cad, the audience is treated to a musical interlude that is wracked with guilt and betrayal.
Text Me by R. Kelly
2009
Typing "one-handed" is the implied action for the parties involved in R. Kelly's 2009 song, Text Me. Like phone sex with emoticons, Text Me is the opening salvo in an interaction that will ideally end with a sharing of bodily fluids as he explains, "Sexts are simply the aperitif to the call."
Text Me in the Morning by Neon Trees
2014
The communication equivalent of the morning after "walk of Shame," the song writers of Neon Trees beg you to forego the raunchy give-and-take of next morning, post coital explicit texts for a simple message that suggest that their well being is far superior to reliving the sweat filled exploits of the night before.
Star 69 by R.E.M.
1994
Star 69 is not designed to award the numerical sexual positioning of that certain someone-someone, but rather a throwback to the days prior to the advent of caller ID technology wh3n all one needed to track down that pesky crank phone caller by tapping in *69 into your telephone keypad.
Call Me by Blondie
1980
You will be tempted to drop what you have going on when you hear the plaintive demand to pick up the phone and Call Me when Debbie Harry of Blondie puts out the call for some companionship. Passions are inflamed in the heat of the moment when Blondie leaves little to the imagination regarding what she's looking for on the dance floor of 1980.
867-5309/Jenny by Tommy Tutone
1981
Inspiring a generation of bathroom graffiti, Tommy Tutone made Jenny's number, 867-5309, a national phenomenon as he croons his devotion to the girl with the most lyrical number in the country. His passion takes a turn towards the dark side however, when he gets all stalker-esque on poor Jenny and he admits he's fashioned an obsession whereby he needs to possess her and make Jenny his property.
I Just Called to Say I Love You by Stevie Wonder
1984
Forget late night booty calls or attempts to get jiggy with the one you want to love, Stevie Wonder pulls out all the romantic stops with this plaintive call designed to express his feel(s). Clearly, this guy has moves that even a blind man could see, which means if you are sitting next to him at a restaurant on Valentine's Day that you expect that your meager romantic motions will pale by comparison.
Phone Sex Over The Phone by The Village People
????
Leave it to the Village People to identify the best place to have illicit phone sex and erotic play. Simply stated, Phone Sex Over the Phone is like a sexy blueprint of how to get down when you have miles in between you and that certain special person, and only the telephone lines can help carry on the torrid thoughts inside our heads.
Talk Dirty to Me by Poison
1986
As they say, "a closed mouth doesn't get fed," and the big haired boys from Poison are letting their desires be known as they exhort those big haired girls from the 1980s to give them a call and Talk Dirty to Me. While the object of Brett Michaels sexual desire appears to be a high school student, we can all take comfort that, in the intervening years, such displays of child predation are no longer the social norm.
Love on the Telephone by Foreigner
1979
Because the uncertainty of a relationships are not nearly hard enough to navigate as it is, the boys from Foreigner choose to add the additional burden of intervening miles and the problems of a long distance relationship. The band demonstrates the hazards of that particular hell when the only way you can love is Love on the Telephone.
Hanging on the Telephone by the Blondie
The rock-punk musical styling of Blondie are on full display as Debbie Harry croons out this sultry tune, which forms the one-hit wonder of the short lived band, The Nerves, before being picked up and covered by Harry. Recognizing the limitations of a phone based relationship; Harry implores her long distance love interest to not leave her "Hanging on the Telephone.
Honorable Mentions
Chantilly Lace by Big Bopper (1958)
1958
In 1958, the Big Bopper hoped that an exhortation to give him a call at Chantilly Lace would suffice to entice without revealing that the man did not have two nickels in his pocket. To the girl's credit, she puts him on notice that a phone call was not going to cut it, and he had bet be prompt in picking her up, and her expectation was that he would also be picking up the check.
634-5789 (Soulsville, U.S.A.) by Wilson Pickett
1966
Party Line by the Kinks
1966
Telephone Line by Electric Light Orchestra
1976
Mr. Telephone Man by New Edition
1984
Answering Machine by the Replacements
1984
Attention! The comment section is moderated. For your protection, please refrain any personally identifiable information such as phone numbers and email addresses.
if (current_user_can('edit_post')):?>
endif ;?>