The Evolution of Sex Chat: Dirty Talk Throughout the Ages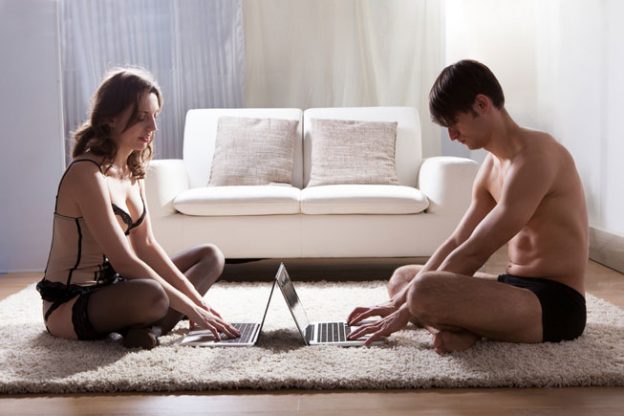 Dirty talk is a delightfully sinful taboo for many people, providing an outlet to express one's deepest thoughts, darkest desires, and most tantalizing turn-ons. Whether done in person or via another outlet for communication, the ability to explore erotic concepts through the art of language offers an undeniable allure.
Despite the recent rise of sexting, cam girls, and dirty talk apps, sex chat is not a not a new concept. In fact, as long as people have walked the earth, sex has never been far from the mind, leading to a wide and varied history of dirty talk through the ages. From Egyptian wall art to cave paintings demonstrating sexual prowess, humans have always been driven to talk about doing the dirty.
Love letters were among the first options for dirty talk, allowing virile-minded men and women to put pen to paper and let their deepest fantasies out. Private, sealed, and handled responsibly, postal services made communication of these kinds of messages convenient and affordable. With proven roots going back to ancient Egypt, messages delivered by mail have been in the forefront of human society for centuries. Need proof ancient civilizations were just as naughty as we are today? Some of history's best-known writers and most brilliant minds are guilty of sending coquettish correspondence.
After the post came telegrams, a form of communication that rose to prominence in the mid-1800s. Gone were the days of waiting weeks for a mail carrier to deliver a note; telegrams were fast and efficient, guaranteeing a delightfully prompt way to let your beloved know of your heightened desire whenever the mood struck. Unfortunately, telegrams were more public than standard mail. As messages had to be transposed and delivered by a third party, it was much more likely that private, graphic fantasies could become subject of public gossip fodder.
Alexander Graham Bell's invention of the telephone in 1876 brought communication – and sex chat – into a new and exciting light. Instead of sending a note and hoping your lover felt the same way, the telephone gave eager couples the perfect way to share their feelings both vocally and immediately. Adding a personal touch to previously impersonal methods of correspondence, telephone access catapulted the pleasures of dirty talking to a whole new level.
At the start of phone sex, dirty details were generally exchanged with current lovers, but Gloria Leonard changed that. As the editor of High Society magazine in the 1970s and 80s, she launched the first "900 number," a term now synonymous with paid phone sex lines, bringing to light a highly desired service for lonely men and women looking to enjoy the pleasures of dirty talk. Still in use today, these lines charge by the minute for the pleasure of expressing one's deepest fantasies to an anonymous stranger.
The modern day fax machine, which debuted in 1948, provided a better way to get written correspondence from point A to point B. With no middle man for delivery, adults were free to send their prurient fantasies to one another at any time. Despite the speed, however, fax machines weren't private enough to provide a great medium for regular communication. In addition, most people did not have home fax machines due to expense and lack of necessity, making dirty chat an option in the office and rarely anywhere else.
Phone sex took on a new direction in the 1980s and early 1990s with the debut of phone dating chatlines like Livelinks. With these services, users could pay to be connected with another local single under the guise of innocent communication, although most users paid the per-minute rate for a different purpose entirely. Adding a live, realistic element to the traditional phone chat models, phone dating chatlines created a perfect outlet for frisky and adventurous individuals.
With the inception of the mainstream internet, the 1990s were a wonderful time for lovers of all things naughty. From a bounty of pornography to instant virtual communication, a digital avenue for information sharing opened a whole new world of scandalous opportunities. Email, officially dubbed as such in 1993, was the next great frontier, providing determined chatters with a private, immediate, and easy-to-use outlet for sex chat. While users were limited to those with email access and an available email address, early virtual correspondence was the foundation of modern day sex chats.
After email came chat rooms, a mid-1990s conception that linked strangers around the world. Providing easy and anonymous access to millions of people at the click of a button, AOL chat rooms were a favorite for digitally-inclined dirty talkers. Chat rooms existed based on every topic, theme, fetish, or interest, creating unlimited opportunity for sex chatting. For those not so interested in sex talk with strangers, instant messaging platforms like AIM provided a means for private communications with friends and partners, making sexy conversations fast and convenient.
As web-based video technology improved, so did the options for virtual sex chatting. Sex cams, or live webcam streams, rose to prominence in the early 2000s, giving horny men and women around the country the perfect opportunity to watch and interact with a live person. With chat features in addition to live streaming video, sex cams offer the best of both worlds, providing visual stimuli as well as an opportunity to express desires and fantasies. Some cam sites feature paid models who perform shows for guests, while others match singles together to engage in cybersex. ChatRoulette, a video chat site pairing individuals with strangers, became prevalent in 2009 and, while innocent in nature, often resulted in anonymous sex chatting. Options like Skype also allow for video sex chatting, most often between consenting partners.
With such a rich and varied history, sex chat isn't going anywhere. The future may take us in some interesting directions, especially as mobile computing and gaming technology continues to evolve. Phone apps are growing in prevalence, and many virtual reality games, like Second Life, already permit simulated sex acts between users. While the next big thing around the corner may not be here quite yet, this we know for sure: after millennia of practice, humans aren't likely to stop dirty talking any time soon. What innovations do you see on the horizon?
Attention! The comment section is moderated. For your protection, please refrain any personally identifiable information such as phone numbers and email addresses.
if (current_user_can('edit_post')):?>
endif ;?>