The History of Phone Sex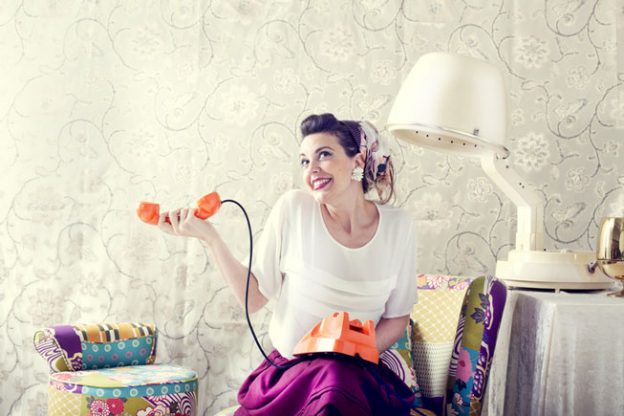 Phone sex
is a staple of modern society, serving as a way to express passions when not in person, simulate sexual activity over long distances, and indulge in a bit of naughty conversation with another consenting adult. Fun, frisky, and largely innocent,
phone sex
has been a delightful pastime for adults for decades, providing a way to keep the passion alive, even when your loved one isn't by your side.
Phone sex isn't a secret – after all, who hasn't seen a late-night infomercial with a sexy model laying seductively on the bed, proclaiming a need to talk to you for rates as low as a dollar a minute? – but it hasn't always been that way. The history of phone sex is long and varied, ranging from the first working telephone to today's cell phone-dominated era. Here's how we got where we are today, and what phone sex means for the power of sexual nature.
What Is Phone Sex?
For those who have never had the pleasure of sharing an intimate moment with a loved one or an anonymous sexy single, for free or for a fee, phone sex is the act of describing and simulating sexual activity over the phone. Phone sex can be performed in numerous ways, either strictly by describing desired sexual acts and creating a fantasy situation, or a conversation embellished by mutual masturbation, sex play talk, or role play. How phone sex is enjoyed can vary wildly from couple to couple and occasion and occasion, but often involves descriptions, fantasies, fetishized discussions, and other opportunities to express desires in a safe way.
In many cases, phone sex is performed with a partner, often long-distance partners, whether temporarily or permanently. In others, phone sex is performed between an individual and a paid phone sex operator or a randomly assigned single looking to chat. The virtual sex industry is enormous, bringing in millions of dollars a year and creating countless opportunities for interested parties to engage in a safe, exciting way to explore fantasies. In these verbal elements lies the draw to phone sex; in a discussion over the phone, people may feel more comfortable sharing feelings and ideas without the intimate nature of face to face conversation.

Who Invented Phone Sex?
So, where did phone sex start? Well, it stands to reason that the invention of the telephone was the first step towards the phone sex model we know (and love!) today.
Despite earlier attempts at a method of communicating verbally between long-distance locations, the first working model of the electric telephone was invented in 1876 by Scottish immigrant Alexander Graham Bell. The original phone had an ear piece and a microphone, which were held separately to the head versus today's unibody model. It took several years for the phone to gain traction; in the 1870s, very, very few households had phones. By 1904, there were three million phones in the U.S. connected to a central switchboard exchange, roughly 4% of the population. This number only accelerated from there, leading to the universal prominence of phones by the midpoint of the twentieth century.
There's an old joke about Alexander Graham Bell's first moments using a telephone. As the quip goes, after Bell made the first successful phone call to prove the efficacy of his invention, he immediately hung up and called his wife to relay a dirty message. This is obviously untrue – in fact, Bell's wife was deaf and thus unable to to use a phone at all – but it stands to reason that the first true instance of phone sex likely wasn't too long after the telephone entered mainstream culture.
Prior to the invention of the telephone, people had to be in the same room together to talk about anything, both innocent and scandalous. The phone changed that; with the ability to hold a private conversation from anywhere, adults were able to share fantasies, fetishes, and sexual activities in a secure manner, close together or thousands of miles apart.

The First Phone Sex Lines
Personal phone sex likely dates back to the turn of the twentieth century, but phone sex as a commercial operation came much later.
The modern porn industry started small, with images in male-oriented publications, but the first pornographic movies came out in the early 1900s, around the same time as the telephone's rise to prominence. As such, the first workers in the modern day porn industry came out of this area, taking strides to normalize sex, both in modern life and within the sex industry. Gloria Leonard was one such role model. As one of the first mainstream porn stars, Gloria entered the industry in 1974 and quickly became a fan favorite, starring in dozens of films. With her experience working in pornography, she soon took an active role in advocating for members of the industry, speaking out about sex worker rights and free speech.
In 1977, she was appointed editor of High Society, a hardcore porn magazine, as a figurehead, but she tool her role seriously. As a part of her leadership, she launched the first phone sex line as a promotional move for the magazine. The original model was more innocent; a female speaker recorded a few sexy sentences, and callers paid per minute to hear what she had to say. With the explosive popularity of such a simple concept, the brains behind High Society quickly realized that if men would pay to listen to a recording, they would pay far more to talk to a real, live woman. And with that, the modern phone sex business was born.
The pay-per-minute format caught on quickly, exploding in popularity as curious men forked over cold hard cash for the privilege to talk to dirty to an anonymous woman. Using phone numbers with a 1-900 prefix, operators were able to charge a steep fee a few minutes of conversation. In the days before the internet, 900 numbers were frequently advertised in the back pages of magazines and adult-oriented media as well as on late night television, aired in the early hours of the morning, long after children were put to bed.

The Legality of Phone Sex
In the 1980s, phone sex lines exploded, taking up dozens of 900 and 976 numbers. That is, until the FCC attempted to intervene. In response to backlash from Americans who weren't thrilled with the easy (and expensive) access to pornographic content, Congress passed the Telephone Decency Act in July of 1988, making it illegal to spread indecent information over the telephone or other recording device for business gain. Shockingly, this crime was subject to a $50,000 fine, or up to 6 months in prison.
At the risk of losing a major cash cow, Sable Communications of California, the company originally used for phone sex lines, sued the FCC. Later on in the same month, a judge ruled that the first Amendment protected speech over telephone, no matter the content or the purpose, but the ban on indecent speech would stand. In 1989, the case went to the Supreme Court. The Supreme Court stated that obscene material was not protected, but that indecent material was, painting a very fuzzy picture regarding what was and wasn't considered obscene. With this ambiguity in place, phone sex lines continued to operate as normal, offering sexy services to countless lonely or curious men and women.

Phone Dating Lines
For those not ready to commit to paid chat with a phone sex operator, there were few options for dirty talk. That is, until the launch of phone dating services in the late 1980s and 1990s. Set up in a similar manner to phone sex lines and often using a 900 number, these services were far more innocent – or, at least, they were advertised that way. By name, these lines were friend finder services, like QuestChat, Livelinks, and Nightline, matching singles in the same area to build friendship and fun. In reality, however, these services truly functioned as today's Tinder, providing an outlet for chatting and dirty talk desperately craved by singles before the inception of the internet.
By making a phone call, a system would automatically place you with a local single in the area, promising a way to connect with people in your area through the power of voice, rather than the awkwardness of meeting in person. In reality, most people understood these services to be perfect for steamy conversations rather than looking for a future life partner. Even with today's modern dating sites and platforms, these kinds of chatlines still exist, linking up singles looking for the thrill of live communication.

The Modern State of Phone Sex
Phone sex today comes in many different forms. Paid phone sex lines are still available with many 900 numbers advertised on television and the internet, but the taboo still lingers. For some individuals, therein lies the attraction; the ability to talk dirty to a stranger holds exciting potential, especially for those excited by the idea of exhibitionist behaviors. For others, the joy of sharing intimacies with one's partner, especially when not able to be physically together, provides an air of excitement, a way to keep the romance alive even over great distances.
Despite the rise of the internet, including web cams, free pornography, chat rooms, and instant messaging, phone sex remains popular. While there's no way to see a sex worker, like on a web cam, this heightens the adventure. In one's mind, the voice on the other end of a line can accommodate any number of fantasies, giving a speaker the freedom to truly live out a desired scenario.

Phone sex lines exist for every fetish and category of attraction, providing the power to talk to someone in a safe, secure manner without any way to risk shame, embarrassment, or even sexually transmitted diseases. On the phone, both callers and operators can exist in unlimited scenarios and realities, creating an ultimate experience for many people. While internet porn and erotic literature cannot be changed to suit one's needs, phone sex can, providing an outlet for sexual energy unlike anything else.

With decades of history behind it, phone sex isn't going anywhere. While people, relationships, and the power of speech exist, the affection for sharing sexual thoughts and ideas will continue to be an integral part of relationships, both real and imagined. With such a long and varied past, it will certainly be interesting to see where phone sex goes from here. The next time you pick up the phone to talk dirty to a lover or an operator, ask yourself this: what mark are you leaving on the fabric of phone sex history?

Attention! The comment section is moderated. For your protection, please refrain any personally identifiable information such as phone numbers and email addresses.
if (current_user_can('edit_post')):?>
endif ;?>