How to Have Phone Sex Like A Boss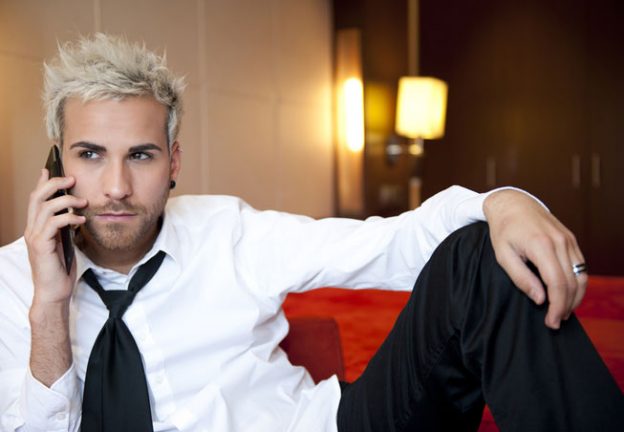 Phone sex can and should be like real sex, amazing. Sex comes easy to men and women, at least most men and women. Okay, maybe not all of us are ready to star in the next celebrity sex-tape, but so what. The point is, most people understand what good sex is and how to have it. While phone sex may require a bit more wit and charm than the average session, the rewards to pleasing a woman as she sits on the other side of the Atlantic ocean can be greater than you ever anticipated.
The only thing that could stand between you and a hot hour-long 'date' on the phone is you. Don't waste much time over thinking or putting preparation into something like getting off on the phone, it is a waste of time and will not satisfy anyone, not even yourself. The idea is simple; phone sex should be as spontaneous and heated as any live sexual encounter.
Reasons for getting intimate over the phone vary, whether it is to release some steam on your favorite hotline, to keep things hot between you and your long distance sweetheart or to initiate things with the part-time stripper you met last Tuesday night. There is one piece of information that all men can benefit from and that is the fact that the person on the other end of the line is a woman. This alone tells you just about everything you need to know. So here it goes, the complete guide to initiating, performing and wrapping up a successful evening love call like a certified stud.
Plant thoughts – Remember that old saying, "Men fall in love with their eyes and women fall in love with their ears"? This is nonsense if you take the word love in this context seriously, substitute it with the word lust instead and you have some valuable information, especially for phone sex.
Phone sex should be seen as an opportunity to take advantage of the power words hold over women. Understanding this truth will give you all the confidence you need to not only say the right things, but to say them in the right way, with confidence.
Avoid pushing a structure or agenda such as "We're going to have phone sex now, baby", or "Those clothes better be off by the time I get home for our evening call". Although anticipation can often work in your favor, it is better to build that up with indirect language that plants the idea in her head without saying it explicitly. Drop hints by admitting over text how hot you've been for her since last seeing her, saying "I've been having some issues at work with you on my mind, good issues" and "I think we need to do something about these issues a bit sooner than distance would allow". It should be playful and not too serious, but straightforward enough to let her know that there is more than the standard how are you that needs to get done over the phone.
Initiate Intimacy
Never forget the crucial detail about not actually being there physically. This means that if you expect to go straight from "hello, how are you?" to "Let's fuck" with success, don't be surprised to either be laughed, hung up on, or hear your favorite pornhub video in the background after she chooses the only option left for the rest of her night.
Remember the importance of intimacy. According to an article by Psychology Today, "women seek and place a premium on a sense of intimacy and emotional closeness with their sexual partners", so no matter how well you know her you should say things that make her feel like you're right there with her. This doesn't mean that you need to make her fall in love and get to know you over the phone, rather, it is about knowing how to use the fact that intimacy will turn her on. Yes, the point is to turn her on. This means asking questions that show a sincere interest in how she is. Hopefully you don't need any examples of what to say to show this.
Leading Questions
After enough chit chat that is normal for any date, move on to more suggestive things. Chances are that you need no help getting turned on, so channel your libido into a more seductive voice. Keep it simple in the beginning with, "What are you wearing" or "Are you in bed wearing that?". These are harmless yet suggestive questions that she won't feel too much pressure from. However, women have the gift of intuition, so she'll know you're not interested in what store she got the lingerie from.
Likely, the response will be one of two things like:
She answers with a smile, "Hmmmm, I'm in bed now, I'm wearing pajama bottoms and a shirt"
She plays with you, almost teasing you and pretending not to understand, saying "Well, why would you want to know that?"
Either answer puts you in a position to then say, "I'm imagining what that looks like on you". She'll hear you smiling through the phone and she will get more turned on. Usually by now she is excited enough to ask you to prove to her just how good your imagination is by saying, "Oh yeah, well then tell me how I look".
Now is when you really heat up the session by describing her features and asking, "Where exactly are your hands?". Remember to firmly hold your ground no matter how sassy her response may be. No matter what she says respond with "I want to tell you how to use them". Once she tells you where her hands are, her mind is now officially in sex mode and it is time for you to take control fully.
Women will often try to tease a guy when he moves forward with phone sex, don't let this intimidate you. Tease her back, but do it briefly. Control the conversation and work to keep the attention focused on her in a sexual way. Try something "I'm going to need to you stop that and listen to me closely". She will love the dominance.
Remember, humor is good. But too much when things are supposed to be getting steamy can spoil the mood, so be careful.
Taking control
The term alpha male may seem overused today, but there is simply no escaping the truth that women love these traits, especially during sex. Unfortunately there is little room for a firm spanking during phone sex, however, you are free to try it and let us all know how it goes in the comment section. According to Jeff Wise, a psychologist with Psychology Today, "testosterone, the hormone of aggression and dominance" is one of the more important parts of demonstrating alpha male traits. Achieve this through an authoritative tone of voice and word choice. For example, when she tells you where her hands are, say something like "Move your finger tips closer to your inner thigh" and follow up with, "Don't move them without telling me". Now you begin to establish a tone of dominance over her and the session itself.
The idea is to maintain this control and continue escalating what you say as she starts moaning your name, breathing uncontrollably and of course, doing the work herself. Tell her to rub her clit the way you would if you were there.
Never apologize for what you say during phone sex, it is a turn off and women can sense insecurity over the phone. At this point you should be enjoying yourself so much that second-guessing is nearly impossible anyways.
Compliment
We are not looking for "You are the most beautiful thing i've ever seen", save that for when you can actually see her.
To keep the tempo you established going as she has an incredible time playing with herself, say some things like:
"I can't even handle the sound of you moaning right now"
"I can see how hot you look fingering yourself"
"That is the sexiest voice I've ever heard"
This helps her feel more free from judgment and other worries. Doing this in person is usally far easier, as physical contact can relieve tension. With phone sex, you can achieve the same thing by saying things that make her feel desired and admired.
Expose her naughtier side
One of the perks to having good phone sex is that there is more motivation to make things interesting by pushing boundaries you may not have considered in person. Take advantage of how comfortable and horny she has become and have her tell you just how much she is loving the idea of having real sex with you.
"Would you like it more if I was there doing it for you?"
"I want to know just how much you want me to fuck you".
"How bad do you want me inside you right now?"
Good phone sex can reap huge benefits whether you have been dating and having sex with a woman for years, or if you have never actually had sex with her yet. When she admits to you what she really wants, she knows the truth about her feelings for you just as much as you do now. For early stagers, you have crossed a threshold where the romance is almost guaranteed to carry over in-person. For the long term relationship, this means more happy times together.
The Finish Line
After openly expressing a desire to be physically intimate with you, there is little room for things to go wrong. But cumming loudly before she has a chance is a little embarrassing, and no one deserves to get left behind, so slow down.
Sometimes you will be lucky enough for her to tell you that she is coming, and in that case just say or do all the things you normally would when climaxing during sex.
Other times, women need more stimulation before they are ready to finish. They love to hear you express a desire to finish with them, so say exactly what you want, "I want to come when you do".
Other times, women may not be able to finish, and this is normal. She enjoyed it atleast half as much as you did, so relax.
Saying Goodbye
Be sure to continue treating the session like real sex in every way. Hopefully, this means staying around afterwards to talk. Sometimes there may not be much to say, but it doesn't matter. Talking for just a few minutes can achieve the level of comfort needed to move forward naturally.
If you are in a long-distance relationship, congratulations, you just helped make both of your lives less miserable. If you just met this woman, congratulations to you too, there may be some more good things to come.
Attention! The comment section is moderated. For your protection, please refrain any personally identifiable information such as phone numbers and email addresses.
if (current_user_can('edit_post')):?>
endif ;?>