Looking for Sex Chat? These are your Options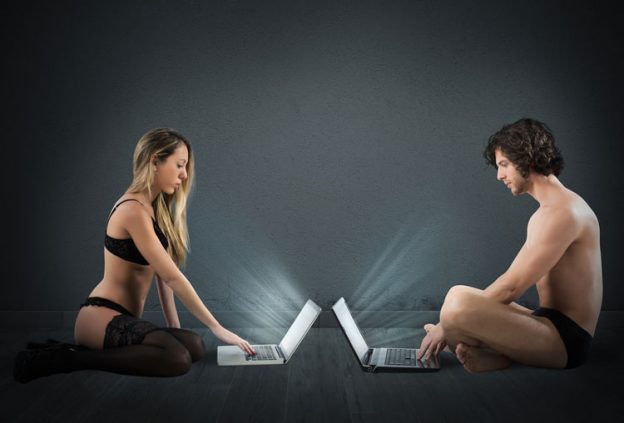 As a consumer, you have more choices than ever when it comes to increasingly interactive forms of sex chat. This is a good thing, in that there's enough choice to provide an option that fits almost any budget, but not in an easily found manner. Choice means a complicated process of exploring all your options and deciding which one meets your wants and needs the best.
Luckily, we've done you a favor by breaking down all the different options by price range and key features so that you can more easily choose the sex chat experience that fits your budget and tastes. Read on for our guide to sex chat services:
1. Phone Dating Chatlines
Phone dating lines are one of the oldest forms of sex chat option, since they involved the lowest level of technology. On a phone dating chatline, you're talking to other callers interested in dating or erotic chat. These lines are usually paid, but not to the degree of a phone sex line.
Your trade-off is that you don't have as much control over the activity on the other end of the conversation. If you want to tell someone what you want them to do, you'd be better off with phone sex line.
Examples: Nightline Chat, Redhot
2. Phone Sex Lines
Examples: Masturline, Mindfuck
When you call a phone sex line, you're paying bit more for assurance that contacting a phone sex operator (PSO) gives you complete control over subject matter. The PSO will act out almost any scenario, giving you the most bang for your (elevated) buck.
Since you and the PSO are interacting directly, this option gives you both an element of control and an interactive experience, though you're typically charged by how much time you spend.
3. Adult Webcams
Examples: LiveJasmin, Chaturbate
These cams let the viewer watch for free and then buy tokens for more interactive experiences with the models, including private shows. The upsides to this method of sex chat is that it offers both a visual and interactive experience not available with phone line chats.
The drawback is that to have control over the activity of the models, you're going to have to spend a pretty penny on tokens.
4. Sexting Apps
Some of these may already be on your smartphone as most are not used exclusively for the purposes of sex chat. Most functions of these apps are free, though some require a paid subscription (for example, arousr.com), and since they are used for a wide variety of purposes, you certainly have choices over how you use them.
The free versions of these apps have certain drawbacks; for example Tinder and the like involve seeking a willing partner for sex chat, Snapchat also (though you can follow your favorite pornstars' stories for some softcore content). To get assurance that you'll find what you're looking for, you'll have to seek a paid service that provides that.
Examples: Snapchat, Kik, Tinder
5. Sex Chat Rooms
These sites are generally paid, but everyone that uses them is looking for the same general outcome in the form of erotic chat. Since you're going to be chatting with an amateur like yourself, your chat partner is going to be willing to talk dirty, either in chat box or over video feed (as some of the more modern sites have web cam capacity), but you won't have the same amount of control as you would with a professional performer.
Examples: Chatavenue, zozo-chat.com
6. Roulette Style Chat Sites
These are similar to sex chat sites, only without the assurance that you'll land on someone that wants sex chat. It may take you a bit longer to find a willing partner, but most of these services are free, so you won't spend any excess money to do so.
Proceed with caution: many of these sites are frequented by chatters trying to shock others, due to the sites' anonymous nature. Don't assume anyone wants to talk dirty with you without consent, and prepare yourself to see and hear some pretty shocking things.
Examples: Chatroulette, Omegle.com
7. Adult Dating Sites
Think of these like the grown up version of more playful services like tinder and grindr. People use these sites to arrange affairs and dirty dealings, so if you have a noble conscience, think long and hard before you sign up for these (usually paid) services.
Examples: Ashley Madison
So there you have it. As you can see, there's a multitude of options for every taste, preference and budget, ensuring that no matter who you are, you have options abound for sex chat. With that said, users can almost certainly find willing partners for sex chat (and more) through these avenues.
As always, ChatlineGuide.com promises to be your home for everything related to sex chat you could imagine: reviews, new products and more.
Attention! The comment section is moderated. For your protection, please refrain any personally identifiable information such as phone numbers and email addresses.
if (current_user_can('edit_post')):?>
endif ;?>