How a Gay Chatline Helped a Confused Young Man Come Out of The Closet [Interview with Jake Cohen]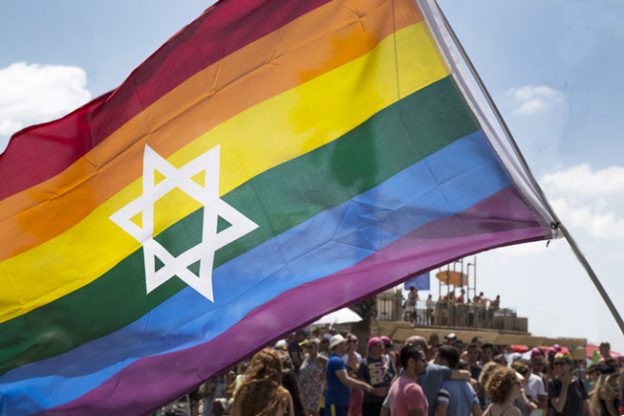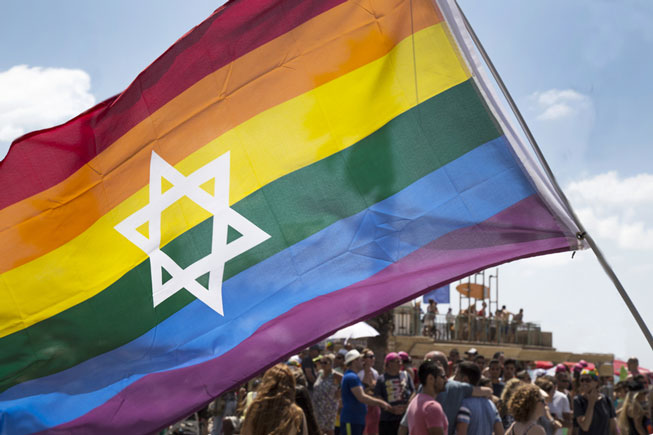 Today I met with Jake Cohen, a 27 year old New Yorker professional illustrator and successful entrepreneur. Jake used a gay chatline to find the support he needed to come out of the closet and improved his career and relationships in the process.
In this post I will summarize what I learned from sitting with Jake — or Yacobi how his parents affectionately call him — at Max Brenner's Chocolate Bar in New York City for more than three and a half hours.
According to Jake, he always knew he was gay deep inside. However, coming from a Jewish Orthodox family, he always found it overwhelming hard to bring out the topic to his family. "Gay people are not normal" — his father would say whenever the topic of homosexuality was being discussed. Jake repressed his gay feelings and became isolated, anxious and depressed.
Eventually Jake found his passion; he became a professional digital illustrator. He found joy of expressing himself through his Wacom tablet and Macbook Pro. Jake became certified in Adobe Illustrator as well as Photoshop. His creations have been featured in art galleries around the country, lately including Miami's Art Basel where he sold one of his creations for an excess of $180,000.00.
Although he knew he was financially successful, Jake felt empty inside. Repressing his sexuality for 20+ years really took a toll on his relationships. It is then that Jake started to look for help. In an effort to find a phone therapist, Jake typed "Gay Phone Chat" into a search engine. To his surprise, instead of finding a telephone counseling service, his first click landed him on the chatline guide's page containing a list of all the gay chatlines page. Jake took a chance and called GuySpy which was offering a 30 minute free trial to all new callers. "I thought chatlines were for phone sex" — Jake remarked. "I never heard about a gay chatline, and so I was curious" — he laughingly admitted.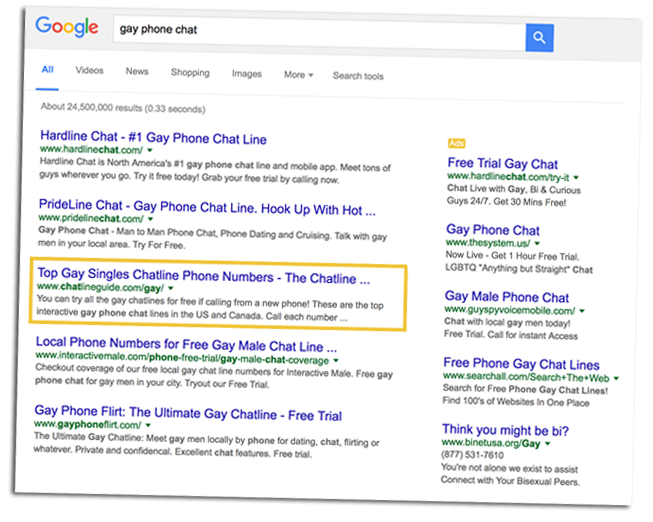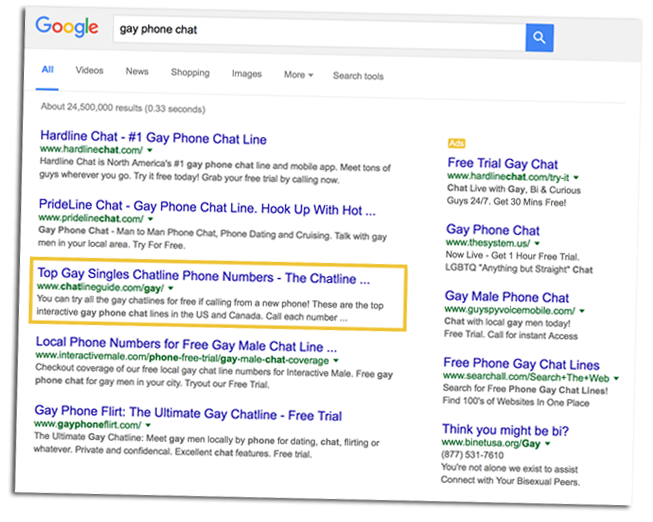 No one in his family knew that Jake was secretly calling a gay chat line. He was very careful to call when none of his roommates where home, or really late at night after everyone was sound asleep.  Jake found friends on the other side of the line. "It was not sexual at all. I used GuySpy [and other gay chatlines] whenever I felt I needed someone to talk to without judging me". "Calling GuySpy was like healing to me. I've been in [formal] therapy before but it just didn't work."
Jake went on  explaining how chatlines have a bad reputation because most people confuse them with hotlines. "Chatlines are much more than phone sex." he declared. "Yes, you can find horny people looking for phone sex in there but if you look a little deeper you can find genuine people looking to have decent conversation and make friends."
Jake met a 36 year old gay man he refers to as "Mo-mo" a nickname for his real name, Moises. Mo-mo had a rough upbringing and he too had been forced to repress his homosexuality until his late 20s.  Like Jake, Mo-mo also came from a Orthodox family where gays where seen as abnormal and unwanted. "Things have changed a lot since then" — Mo-mo said as he walked to join us in the cafe. "My family as well as most Jewish orthodox people now accept gay people as equals. Even my Rabbi is happy to see me and refer business to me."
"Moises told me his story about how he had to fight the societal notions that gay people where evil or inferior." said Jake, "and he inspired me to do the same." It took Jake more than a month to prepare for this moment, but after chatting almost daily with Mo-mo, he felt he was ready. On January 17, Jake invited his parent to Sunday brunch at a local kosher restaurant. After exchanging some pleasantries, he went right to the point. "Mom, Dad. Everything is OK" — Jake said to soften the blow. I asked you both to come here because I want to tell you something you might  not want to hear, but its been killing me inside for a long time" — he continued. "Mom, Dad, I am Gay." With a tear in his eye, Jake looked down for a couple seconds. Chana — Yacobi's mom — raised his head while Joseph his dad replied "We are proud of you Yacobi. No matter what happens we are your parents and we love you regardless".
"It took me 30 seconds of courage to being the issue to the table" — Jake explained. "After that, it was easy." Jake did not expect his parents would be so supportive. He learned that his parents already suspected Jake was gay, but they too did not know how to handle the sensitive topic. Joseph — his Father — had even consulted with his most trusted Rabbi about the issues years ago. Rabbi Eliyahu Garson explained him that regardless what the text say, God loves all his children equally. That would it is written in the sacred texts are not to be taken literally but interpreted to make the best of each situation. "That is why God instructed the Jewish people to listen to their sages; to interpret the law!" – he continued. "And if the Sages approve, who am I to disapprove."
Jake is very thankful for having met Mo-mo on GuySpy. Mo-mo frequents the same synagogue that Joseph does, and they see each other almost every day. Joseph's image of gay people has completely changed, he even invites Moises (Mo-mo) to read from the Torah once in a while. "Moshe [Mo-mo's hebrew name] saved my son's live" — Joseph explained. "They say when someone save a life, he saves a country, so Moshe is special to me".
Irrespective of all the gay jokes they used to tell, Jakes friends and roommates were very supportive too when he came out of the closet in public. "I posted it on Facebook; some people taught I was joking, but in general everyone was supportive." — Jake recalled.  "I had not one negative comment. I am so happy I had the balls to come out" and if it wasn't for GuySpy, GuyLine, InteractiveMale and of course Mo-mo (and all the other guys that inspired me to come out of the closet),  I don't think I would have done it. "Chatlines are good, even if sometimes people abuse them" — he concluded.
Today Jake is completely different person. His parents describe they can see a sparkle in his eyes once again. His business is thriving and he no longer isolates himself hide his pain. Jake is a big supporter of a pro gay marriage movement and other gay support and advocacy organizations such as Advocated for Youth and ReachOut.com; resources Jake didn't know existed before he came out of the closet. Jake also contributes the tithe to his Jewish synagogue — "they've really evolved on these kinds of issues and they do good community work so I am happy to help". Since Jake's revelation, other young members of this orthodox community have been inspired to come out of the closet publicly as well.
Attention! The comment section is moderated. For your protection, please refrain any personally identifiable information such as phone numbers and email addresses.
if (current_user_can('edit_post')):?>
endif ;?>