What's Life Like for a Straight Male Phone Sex Operator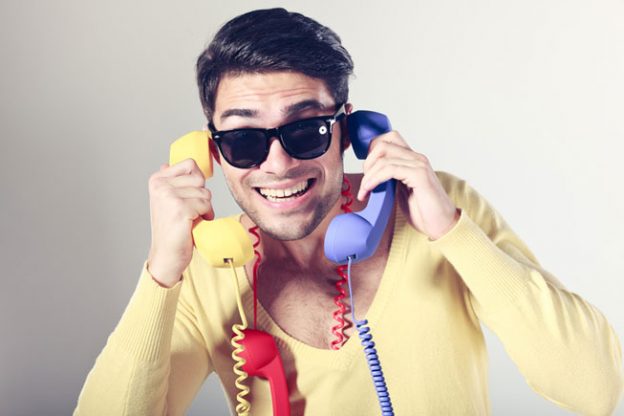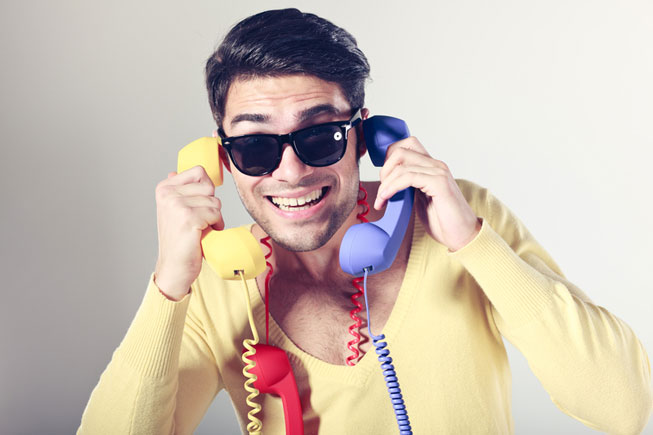 It has been said that the human mind is indeed the most erogenous of all the organs. Perhaps this is why people spend millions of dollars on phone sex annually. Some people's brains are more turned on by an erotic conversation than the sight of two strangers having sex on a computer screen. Phone sex isn't limited to straight people, though many of the operators are only pretending to be gay. In a recent interview with Cracked Magazine, a straight father of three disclosed just how extensive the business of gay phone sex has become.
Understanding the Business of Gay Chat
Many people might think it's relatively easy to work as a gay phone sex operator, but these people are mistaken. There's actually a complicated hiring process involved, and only a select few are chosen for the job. According to the anonymous father, he actually applied to an add that was seeking aspiring actors and actresses. He says he was given a script of sexually overt phrases to say, and the company only hired those who could say the phrases without giggling or chuckling. Saying something like "I want to eat your big banana" would be a challenge for most straight men, but the father managed.
Training to Become a Gay Phone Sex Operator
The training is far more extensive than most people realize. It requires more than just randomly talking about sex to be a phone sex operator because they must create a fantasy with their voices. The father says he was taught to get into character which can be challenging for a straight man. These men are also taught how to make sounds that will appeal to homosexual men such as the sound a mouth and throat will make during oral sex. He didn't go into detail bout the length of the training, but he did emphasize the elements that were involved. Apparently, the training also consisted of extensive sexual harassment and safety seminars.
It should come as no surprise that the operators are told to keep their personal information strictly confidential. Stalkers and homophobes frequent these types of lines and they may try to contact the operators in person. Some callers become fixated upon the person who so vividly fulfilled their fantasies over the phone. The father mentioned how people would try to gather as much personal information as possible about the operators. The supervisors would constantly remind the operators to keep their information to themselves, although this is probably done to prevent liability suits.
Women Occasionally Call These Gay Phone Sex Lines
Another male phone sex operator reveals that he would occasionally receive calls from straight women. Apparently this does happen, and men who are straight appreciate these callers for a few reasons. When men call a phone sex line to chat, they're usually looking for sexual gratification. Once this has been achieved, they rush to end the call to avoid additional charges. However, female callers tend to stay on the line for repeated gratification, so the operator can earn more from a single phone call. The man says he had a caller stay on the line for 45 minutes, less than 20 of which was spent discussing sex. However, the majority of callers are men, and operators have to keep the sexual tensions high without infringing upon government regulations.
Forbidden Sexual Chat
One straight man said he was surprised to learn about the strict regulations imposed by the Federal Communications Commission (FCC). Apparently, terms like "blowjob" were completely out of the question. Instead, he could use the term 'tongue bath'. The operators must also be creative when inquiring about a caller's anatomy. Terms like "how tall are you laying down" are acceptable but not 'how big is your penis'. These regulations apply only to the operators who are being paid to provide the service. Apparently, anything goes for the callers who regularly use terms like "man pussy". This same individual also mentions how the experience changed his view of sexuality.
Gaining an Open Mind
The straight father admitted to getting an ego boost from audibly pleasuring other men. He says the experience made him more heteroflexible, though he wouldn't call himself bisexual. He says he would get caught up in the roles he was playing, and he definitely sees homosexuality differently now. He no longer holds the position anymore, but his experience proves that gay chat isn't strictly reserved for gay men.
https://www.queerty.com/straight-man-spills-all-the-details-about-being-a-gay-phone-sex-operator-20160425
http://www.cracked.com/personal-experiences-2194-6-realities-being-gay-phone-sex-operator-and-straight.html
Attention! The comment section is moderated. For your protection, please refrain any personally identifiable information such as phone numbers and email addresses.
if (current_user_can('edit_post')):?>
endif ;?>