How Singles Chatlines Work: The Ins and Outs of Phone Dating.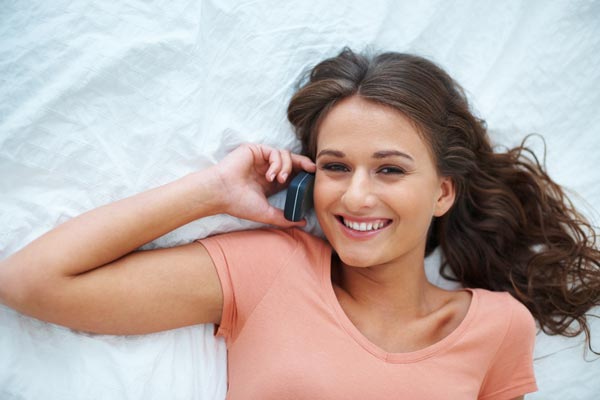 A chat line is a phone dating service for singles that allows users to meet and interact with other singles in their area. There are local services as well as national services allowing one to expand their horizons as far as they wish. Some examples of the national ones include Livelinks, Quest Chat, Fonochat, Lavalife,Vibeline and The Night Exchange and more…
If you're single and ready to mingle, meeting someone can be challenging. Going out to clubs does not necessarily mean you will meet someone who shares your preferences and tastes. It is for this reason that singles chatlines exist.
How (Most) Singles Chatlines Work
One begins by calling their chosen chat line number and recording a greeting. This greeting is where you describe yourself, your interests and what you are looking for. The greeting is meant to be an expression of who you are. Every time you are online you will listen to greetings from other singles in your area.
If you listen to a someone's greeting and feel turned on by his voice press 1 to call him up for a live and private chat. Press 2 if you want to leave him a message that will keep him thinking about you the whole day. On some chat lines, you can leave others offline messages. 3 is the number you press if you want to skip a particularly annoying person. Pressing 4 adds/removes people from your "hotlist". The hotlist is where you put people you like and get a notification whenever they come online. The number 7 will allow you to block anyone you do not want to interact with. Blocking them will make them unable to send messages to you.
Making your greeting stand out is essential. This is where you get to "show" yourself to others. There are people who will be drawn to you by your voice rather than your interests. A catchy, sexy voice is what you need to get started. Keep your voice and tone friendly and approachable. Whether slow or fast remember to speak confidently. One needs to clearly state what they are looking for on chatlines. Whether you are interested in friendship or erotic purposes, stating it firsthand will save you and other callers their time. If you record a greeting and end up not liking it you can always record a new one.
Just as there are things you need to say on the greeting, there are those you cannot say as well. One absolutely cannot discriminate others based on their race. This is against the policy of all the chat platforms. Everyone is looking for the same thing you are on these phone services. Another thing one cannot do is use this platform as a means of selling or asking for drugs. These services are in place to promote good clean fun. Also, leaving personal contact info is against the rules. All interaction needs to take part on this platform.
All participants on this platform NEED to have attained the age of 18. If you chat with someone and realize they are under 18 you are advised to inform customer service immediately.
How much does it cost to participate?
Some chatlines offer free trials for new members that could last up to 60 minutes. During this trial you will be able to listen to other users' greetings. This could give you an idea of what to say during yours and the cool people already using this platform. During the free trial you will also get a chance to listen to some commercials. They may sound boring but are very informative to new members. The trial is a one-time thing after which you will need to pay a subscription fee. One important thing to note is that your phone dating trial can only work with the same phone number you used to register for the service.
As a new member using a free trial you do not get access to the perks a paid subscriber already has. Some of these perks include offline messaging (paid subscribers get their messages instantly), the hotlist, re-usable greetings and so much more. Payment varies among different local and national chatlines. The variations are a result of the area, duration of use of phone services etc. Most of the chat lines offer NO payment for ladies and occasional free services for men.
Different strokes for different folks
There are different chat lines to accommodate different people's needs and preferences. Some examples include party lines, adult party lines, straight singles lines, Gay lines, Latino, Black/Urban lines, late night chat and more. The late night chatlines are popular among many singles and provide a sexy, fun and hot way to meet other like-minded people.
If you find someone you like you can chat privately with them. The chats are absolutely private and are not monitored by anyone. You can talk about anything you want during the chat. It can also last as long as you like.
What's in it for me?
When you call a singles chatline, you will be introduced to a whole world of opportunities where anything goes. You will form bonds of friendship with other singles and get to know more people in your local area. If you prefer a national platform you can get to learn about life outside your local area. Get to meet fun loving individuals who are daring and bold.
These chatlines have a high regard for the safety of their clients. When organizing a meet make sure to do it in an open place. Be careful about what you disclose with the strangers online at all times.
Phone dating, in truth, is a little less popular than online dating. This is because online dating has a larger platform. People like it because it's fun, quick and simple. However, this platform is impersonal. As much as you get to chat with the other person, the aspect of being in touch is not present. Phone dating is different because you get to hear the other person's voice.
Call your local chat line today and register to get started. There are thousands of other eager singles waiting to hear from you.
Attention! The comment section is moderated. For your protection, please refrain any personally identifiable information such as phone numbers and email addresses.
if (current_user_can('edit_post')):?>
endif ;?>