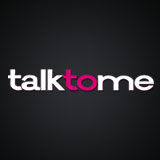 TalkToMe
TalkToMe is a unique platform which caters to every kind of adult user imaginable. With support for gay, straight and fetish focused phone sex, video chats, sexting and more, this truly is the perfect destination for any adult with a hot, burning desire to connect with someone that turns them on.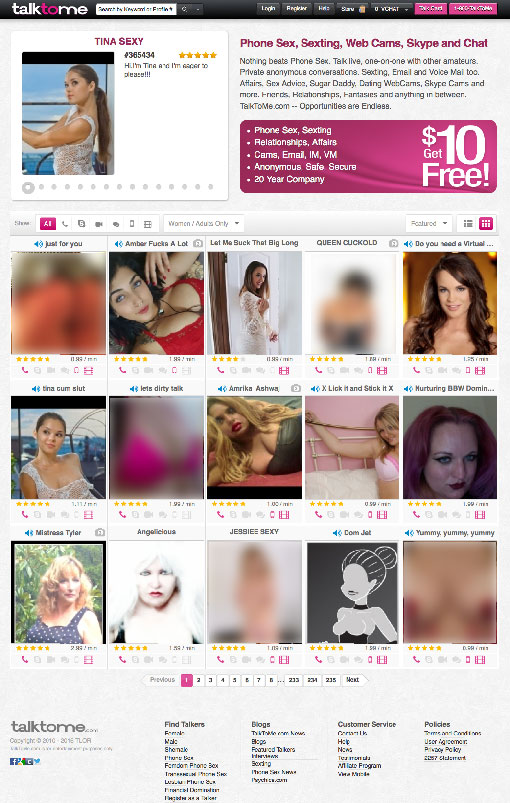 More Chatlines Like TalkToMe
Talktome.com is a unique platform which offers phone sex, webcams, Skype cams, Sexting and webchat options with amateur and professional men, women and shemales from around the world. The website also offers a dedicated, toll free phone sex line for connecting with the person of your dreams, 24 hours a day, whether from inside or outside the continental United States.
This website offers a free $10 credit that allows you to try their services, free of charge. Talktome offers providers offering all kinds of niche and fetish options. Financial domination, female domination, lesbian and transsexual phonesex are just a few of the many tastes and flavors offered by this fun and well designed sex chat focused website. Talktome also offers dedicated categories to gay, cuckold, couples, teen, bbw, bdsm and other types of specific phonesex and video chat options.
There really is something for everyone on Talktome.com!
Slogan
Talk to Me : "The New Face of Phone Sex, Cams, Skype, and Sexting"
Talktome.com is focused on providing services in English. While all providers absolutely speak English, many of them are from international backgrounds and may be able to speak select foreign languages on a person by person basis. It is possible to use Talktome's search function to look for women according to ethnicity. Results for middle eastern or eastern european women for instance, are likely to yield individuals with a greater likelihood of speaking additional languages beyond English
Service Features
Your first $10 credit to try Talktome.com is totally free of charge after signing up.
Access to thousands of amateur and professional men, women and transexual providers supporting all kinds of roles, specialties and fetishes.
The ability to have private phone, video, and text conversations with people from around the world.
A storefront to purchase gifts, hidden galleries, IM handles and other special items for use across the site.
Competitive pricing set by each provider on an individual basis means options at every possible price point.
Offer your favorite providers bonuses to encourage even better and more individualized services.
Secure, Skype based platform allows you to access hot and sexy men, women and transexuals from around the world without having to worry about your sensitive data being compromised.
Pros / Cons
Pros
Extremely expansive selection of amateaur and professional phone and video sex providers of multiple ethnicities.
Very well designed website with many innovative features to support a satisfied user experience.
Free $10 sign up credit allows you to try nearly any service available on the website before making a purchase yourself.
Support to connect across phone, webcam, skype, text and webchat.
Ability to negotiate special services and private shows with your favorite providers.
Options for chatting with straight, gay, fetish and other types of men, women and transexuals.
The option to register as both a "caller" and "talker" if being a provider is of interest to you.
Set credit payment limits and enjoy secure payment options through Rocket Pay.

Cons

Offers a relatively short free trial period.
Those interested in extremely taboo or niche focused fetishes may not find adequate options to fulfill their desires.
Competitive pricing set by individual providers means there can be discrepancies between what services and the prices offered from performer to performer.
Mainly focused on offering support for phone, video and text chatting in English.
Only offers the option to pay using credit cards.
Free Trials
Talktome.com is a unique phonesex and video chat provider which offers a $10 credit to every new user who registers on the site. This credit will have varying mileage depending on if a user chooses to send text messages, have a video chat or speak on the phone. All prices are set individually by providers so it is hard to say exactly how long this free credit will last.
Payment Methods
Talktome currently only offers the ability to pay by credit card. The credit cards supported are: Mastercard, Visa, Discover, JCB, Diners Club International and one other international card.
Pricing and Packages
The prices on TalkToMe are set by providers so there is a pretty wide range. Most of the video chat options are priced between $2.99-4.99 per minute. Some of the least expensive phonesex prices are less than .70 cents a minute. There is also a toll free phonesex line available for users inside and outside the USA. Webchat prices were recently lowered to about .25 cents a message.
Specials and Promotions
Talktome.com offers a free $10 credit for new users. Many individual providers offer special pricing for first time and repeat customers.
Talktome.com is one of the best phone sex platforms we've come across. It's range of male, female and transexual providers makes it a hot and erotic destination for anyone, regardless of their interest and sexual orientation.
If you are looking for a chat line provider that offers the ability to speak on the phone, text, webchat, and skype based webcam with the same man or women, this site is definitely for you. With so many ways to customize your user experience, Talktome is definitely one of the best providers you could use!