Do You Wanna Play A Little? Funny Portuguese Phone Chat Fail!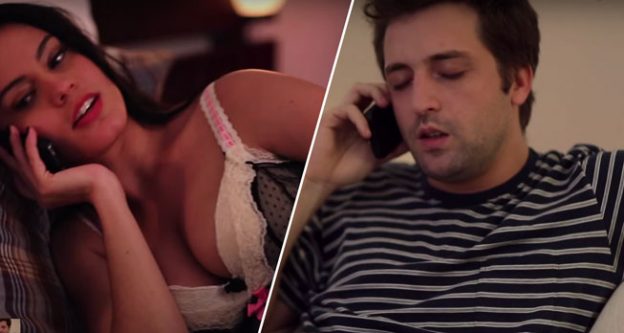 Phone sex is supposed to be about having fun and getting intimate with your partner even when the two of you aren't in the same room. This hilarious video from the Open Door features a hot young Brazilian couple who try to spice things up and get in the mood with a little fantasy and some dirty talk. But things don't exactly go according to plan, as the man makes some very questionable fashion choices, and his partner can't quite get over them and get in the mood.
Things start heating up pretty quickly in this Portuguese phone chat video, when the hot Brazilian woman calls up her boyfriend, Marcello, and asks if he wants to play a little. Marcello is quite excited by the idea, they can't quite seem to get past taking off his clothes. Ankle socks and pajamas aren't exactly her idea of a sexy outfit, so he comes up with a few more ridiculous ideas, including his favorite soccer jersey, and striped pants and a plaid shirt, with a pair of crocs. She almost gives up, " It's not even a matter that it's not sexy Marcello, it's a matter that plaid doesn't go well with stripes". So he tries again, telling her he's in his underwear. Beige, which doesn't exactly turn her on, either.
They get past that only for him to complain that it's too cold when he takes off her pants. But he's brought a friend, Corporal Lacerda, who wears a cape! Fed up, Marcello's sweetheart announces that she has brought her own friend, Joan Rivers, who is there to give him some fashion tips. Despite the fact that his lovely lady has left the conversation, Marcello is undeterred, and continues to try to have phone sex with Joan Rivers taking the place of his paramour, all while giving him fashion advice. The timing and verbal wordplay in this Portuguese phone chat video make it well worth watching!
Attention! The comment section is moderated. For your protection, please refrain any personally identifiable information such as phone numbers and email addresses.
if (current_user_can('edit_post')):?>
endif ;?>