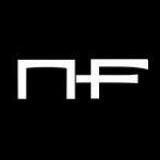 Niteflirt
NiteFlirt is a phone sex, chat and webcam platform which offers female, male and transexual entertainers of all ages.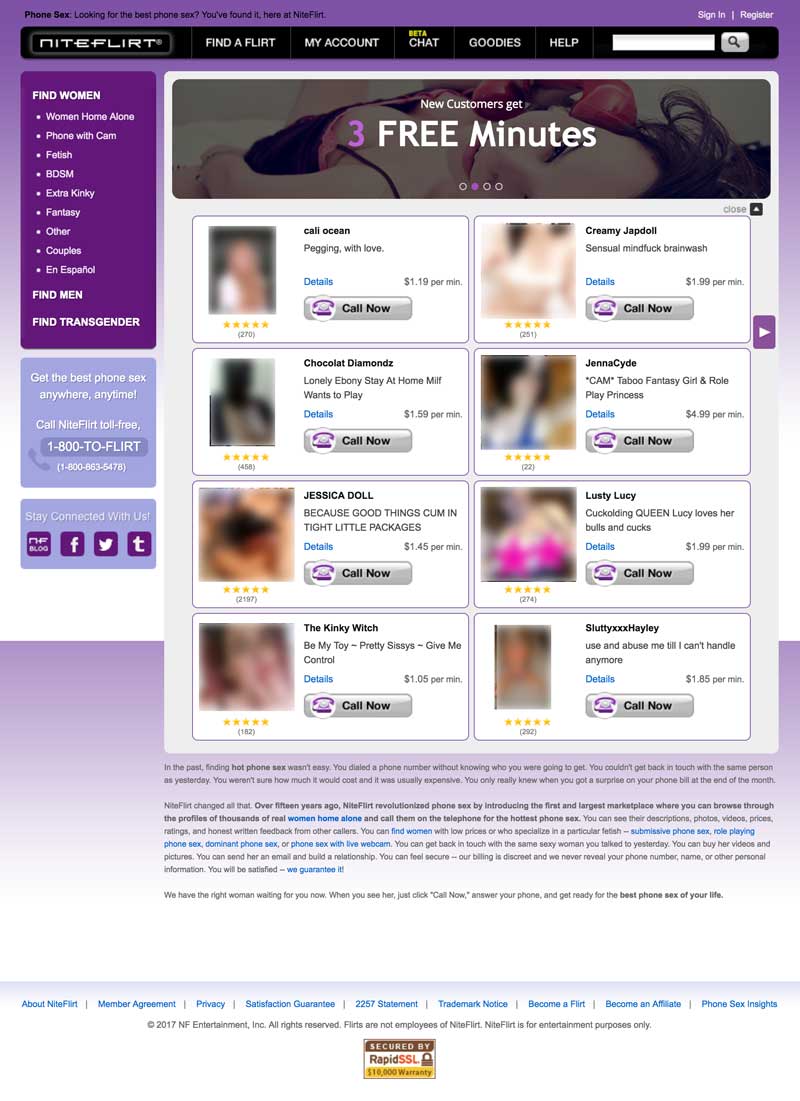 More Chatlines Like Niteflirt
NiteFlirt is a unique destination where you can have live phonesex, exchange hot emails, chat, watch webcam, listen to recorded phonesex and purchase unique items called "goodies" from your favorite "flirts". Goodies are special picture, video sets and other items which you can buy for less than $5 up to more than $25.
NiteFlirt is very focused on offering services for this interested in kink, dominance, and submission. Many of their providers are very experienced in these areas. Additionally, many of the goodies available such as contracts for submission, or audio recordings meant to brainwash or hypnotize users are very original.
Slogan NiteFlirt: "Speak to Your Desire"
This platform offers a decent amount of categories. You will find options for those looking for male, female, and transexual providers as well as the unique categories of "women home alone", "fetish", "fantasy", "extra kinky", "couples, and "phone with cam".
Languages
NiteFlirt offers support for English and Spanish language fantasies and flirts.
Chatline Features and Membership Perks
Support to have live phone sex, listen to recorded phonesex or have web chats with men, women and transexuals around the world
Access to special goodies from your favorite flirts which offer incredible, bespoke experiences, services, as well as physical and digital items
Support for many kinks and fetishes not found on other chat provider websites and apps
Expansive range of performers categorized according to many unique, searchable criteria such as domme, sub and much more
Ability to pay as you go for the services or goodies you want with providers on NiteFlirt
Transparent and secure. Niteflirt never reveals your telephone number or personal data
Email feature is a hot option for those looking to spice up their inbox
Comprehensive search options allow you to find just the right flirt for the day, night or the rest of your life
Pros / Cons
Pros
Allows you to have live phonesex, watch videos, look at pictures and chat with straight, male, female and TS/TG providers from around the world.
Support for many kinks and fetishes not seen elsewhere
3 free minutes for all new customers and a $10 credit available if you sign up via the internet
Access to special goodies which are special picture, video sets and other more exotic items from your favorite flirts
Allows you to register as a user or a flirt yourself if you want to show off your skills
Ability to pay a tribute to performers you like so they go above and beyond for you
Has a toll free sex line you can call to get off, for cheap, whenever you want

Cons

Website looks dated compared to other options
Services are not explained in an easy to understand way online
Those looking specifically for gay or transgender providers may be underwhelmed by the options
Most of the providers are amateurs. For some this is a plus for others it may be a negative.
There is a $2 account maintenance fee for every month that a user has a positive balance with NiteFlirt
Free Trial Information
NiteFlirt allows you to access 3 free minutes with a provider of your choice. There is an additional option to receive a $10 free credit which may be a limited promotion.
Payment Methods
NiteFlirt accepts Debit Cards and Mastercard, Visa, Diners Club, and JCB Credit Cards.
Pricing / Packages
Prices for all services on NiteFlirt vary by the provider offering them. The goodies which can be purchased are scaled from items costing less than $5 up to items costing more than $25.
Specials / Promotions
NiteFlirt offers 3 free minutes to all new registrants.
There is also a current promotion which offers a free $10 credit for all new subscribers who access the website from the internet.
NiteFlirt is an interesting platform for live and recorded phonesex, webcams, email and webchats. While it's layout and options may not be the slickest on the internet, its dedication to kink and fetishes make it a top choice for users looking for something other than simple, neat and easy vanilla phone sex.
This website is worth checking out if you are into kink and especially if you might want to purchase special items from your favorite girl or guy. NiteFlirt's goodies system is very well conceived and offers a unique range of products and services that other sites may struggle to try to duplicate.