Lavalife Voice
Lavalife Voice Packages
| Minutes | Price |
| --- | --- |
| 90 minutes | $29.00 |
| 440 minutes | $49.50 |
| 700 minutes | $74.50 |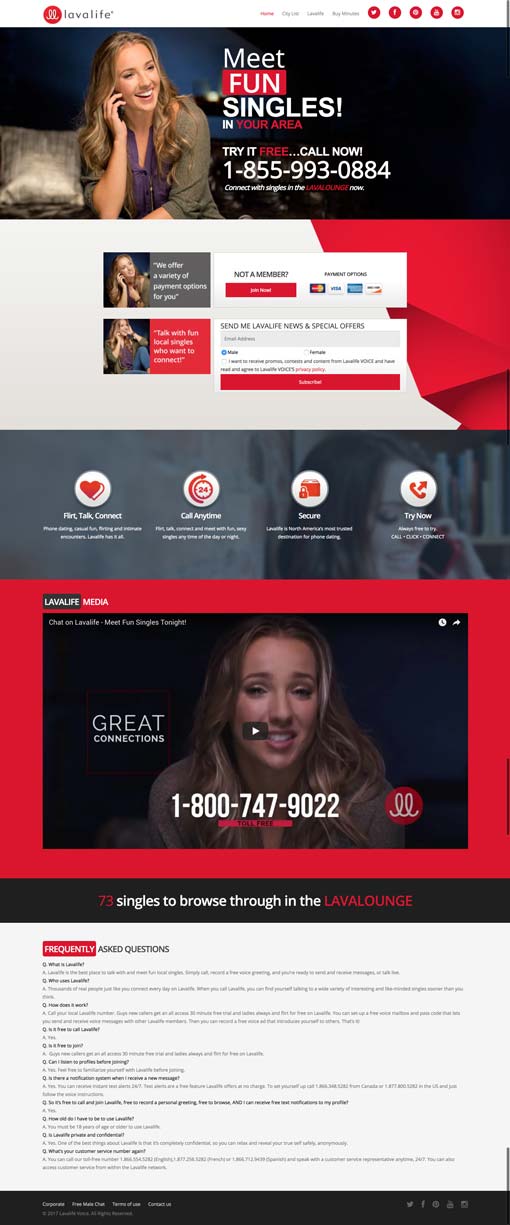 More Chatlines Like Lavalife Voice
Lavalife Voice is for singles who may be looking for chat, casual dating, friendship, discrete as well as intimate encounters, flirting, parties, sexy hot talk, serious relationships, long-term relationships, romance, open relationships, and even true love. This should make it one of the best sites you can ever imagine when looking for a place to have fun and date without any pressure.
Features
First, you will be able to access it 24-7 whenever you need a place to find love from the thousands of singles in around the world. Whenever you need to find love, you can always log in and start chatting with the single men and women in across the website. It is also cheaper when compared to other dating websites that exists in the market. When you do visit the site, you will always save money and this makes it one of the best places you can easily find someone depending on the reviews of the people who have tried it in the market.
The website is also secure when compared to other dating website with lots of fraud cases recorded. When you log in, you will be sure that your information within the site is kept secret without somebody invading your privacy. You will also have interesting matching from the website. The site also has an easy navigation to help you find other singles within the site. It also allows you to customize your website to enable you select the best from the group of single men and women.
Pricing:
A one-month membership costs in Lavalife is $19.99 USD, a 3-month membership will costs you $16.99 per month billed at once), while a 6-month membership will cost you $9.99 a month also billed all at ago. Members can pay in either American or Canadian funds by credit card, PayPal or money order. This provides you unlimited access.
Do they offer a Free Trial? Yes, they offer a 3-day free trial membership.
Paid Membership Perks: Yeas, members get Mailbox and priority messages after subscribing to the membership plans given.
Rating: I would rates then 5 out of 5 stars due to excellent and convenient conversations especially those looking for a relationship.
Most Active Markets: Lavalife is popular in both US and Canada.
Peak Hours: It is available 24-7 for the members to date without pressure.