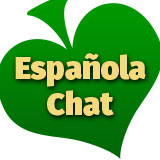 Española Chat
More Chatlines Like Española Chat
Living in South Florida, surrounded by gorgeous Latina singles, I had huge expectations for Espanolachat.com. The Spanish chat line's website boasts that you can meet local singles with no credit card needed, and ladies always call free. As a single guy, that sounded like a win-win: perhaps the zero charge for women would even out the skewed male-to-female ratios that plague most dating services.
I picked up my cell phone and dialed in. The website advertises three lines: a local chatline, a line for gay and bi-curious callers, and an "uncensored VIP line." I started with the local line.
A sultry recorded female voice greeted me in Spanish, prompting me to press one for Spanish or two for English. Because my Spanish is limited to the vestiges of what I picked up in Señora Espinoza's tenth-grade class, I opted for two. The next recorded voice was equally sultry, but spoke in English, informing me that the line I'd called was part of a larger phone chat service operation called "Sexy Live Connections." Sounded good to me.
As a first-time male caller, I was directed to make two recordings, one consisting of only my first name (I gave a fake), the second a short greeting telling a little about myself and what I'm looking for ("I'm Charles from Fort Lauderdale, looking for a beautiful lady to get to know.")
Then, I was informed, the clock began ticking. While the website promises 60 minutes of free chat, I was disappointed to discover I'd been allotted only half that time, a half-hour to, hopefully, find my next girlfriend.
The way it works is you hear recorded greetings (just like the one you made) from prospective partners one at a time. If one interests you, you can press one to be connected live to that person. You hear callers in your local area first, and when those are exhausted, the recordings come from all over the country.
I live in a metro area of 6 million people, a huge number of them Hispanic and single. The Saturday afternoon I called, precisely two local ladies were logged in. Another disappointment.
I hung up and tried the uncensored VIP chat line number, hoping for more bountiful options. The greeting was similar, though the recorded voice sounded even racier, using more sexually charged language. Activating my free trial, I discovered this line gives you only five free minutes.
Once again, I recorded a name and greeting, then proceeded to hear the recorded messages of nearby girls.
It was the same two girls from the local chat line.
I hung up, dateless, and took out some paper to summarize my experience, starting with the features and membership perks:
Chatline Features
Three separate chat lines, one for local callers, one for gay and bisexual callers, and one for uncensored VIP chat.
An option for paid phone sex chat (VIP chat line only).
Send and receive offline messages (paid members).
Access to local and remote callers.
Pros and Cons
Some pros of the service
Free membership for ladies.
Free trial for men.
Active moderation (press seven at any time to report an inappropriate user).
Easy-to-use interface.
And some cons:
Very few local female callers.
For men, short free trial (only five minutes on the uncensored VIP line).
Ugly, outdated website.
VIP callers seemed to be the same as the local line callers.
Pricing and Packages
If you give it a try and decide to keep going after your free trial, the pricing looks like this, and you can pay over the phone via credit card:
15 minutes for $9.99
75 minutes for $24.99
165 minutes for $49.99
400 minutes for $99.99
The Final Word
In conclusion, there's no reason not to try Espanola Chat, as the trial is free and doesn't require a credit card, so there's no risk of accidentally going over your free minutes and incurring charges. But as a single guy, I found the local selection very limited, and that's living in a place where you can't throw a frisbee without hitting a pretty Spanish girl. I can't imagine the results being any better in a different region.