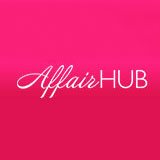 AffairHub
AffairHub Packages
| Minutes | Price |
| --- | --- |
| 50 minutes | $14.99 |
| 120 minutes | $29.99 |
| 200 minutes | $49.99 |

More Chatlines Like AffairHub
AffairHUB is a dating chat line made specifically for callers that are looking to have a little fun outside of their marriage or relationship. Marketed as "the place where anything goes," the line encourages callers to find a booty call, flirt a little, or find a date for the weekend, and promises to connect the carnally curious with thousands of hot, horny people calling in to enjoy life to the fullest. Callers that either sign up for a free trial or buy a membership begin by listening to the greetings of women that live nearby, with the option to continue to the "National Hot Chat" for even more fun.
Membership is where this 18+ chatline starts, and that means purchasing a package of minutes. The good news is that by buying a package – $25 for 83 minutes, $50 for 200 minutes, or $95 for 475 minutes – you automatically become an AffairHUB member. That means you get certain benefits, such as being able to call in from any number (free trial minutes can only be used from the original phone number), the ability to save and re-use your greetings from call to call, and a special number to punch in to check your balance while you're on a call. These packages can be purchased with any major credit card, a pre-paid credit card, or a debit card for convenience; an automated system can also handle it all, or you can opt to use the 24 hour customer service instead.
Once I recorded my greeting, I had the following options after each greeting I heard.
1 – A live connection to the member I was listening to.
2 – The ability to send the member I was listening to a private voice message.
3 – Ignore the current greeting I was listening to and move on to the next.
4 – Listen to the last message I sent to that member, if any.
5 – Listen to the greeting that played just before the one I was listening to.
6 – Block the member I was listening to.
7 – Report the member I was listening to for revealing contact information, etc.
8 – Listen to the caller's home city.
Hitting 9 repeated my menu options, but I didn't find it necessary, as the menu repeated after each and every greeting. As a side note, your identity is pretty well protected on this cheater's chatline: I had a female friend pose as a "jealous girlfriend" and try to call in to get information – they wouldn't tell her anything, even how much the line costs, explaining that they had a policy against revealing information to women.
While I was calling in, I was also given the opportunity to, for an added charge, enjoy something "a little hotter" by pressing 5 for live 1-on-1 hot talk with a woman. I could also select a sexy live hostess to customize my chat experience based on my private fantasies. If I wanted take the experience off the chatline, the AffairHUB.com website has a comprehensive lineup of dating apps, webcams, seduction training, and even a "panic button" that immediately dumps the site viewer into a "safe" website that won't arouse a partner's suspicion.
The Last Word
AffairHub has the potential to be a fun and sexy distraction for cheating men and women, but don't expect much help when it comes to the customer service options: the automated system runs callers around in so many dead-ends and repetitions that's it's dizzying.